Built in collaboration with your industry every step of the way
IFS solutions saw the light of day in the asset management sector over 30 years ago. Our software was designed not just for, but to a great extent by the industry. We have seen mergers and demergers, deregulation, greater demands on asset and workforce optimization—and we have helped companies all over the world turn these challenges into profit-making opportunities.
Our Enterprise Asset Management (EAM) solution offers comprehensive functionality to manage your entire asset lifecycle. Whether planning and designing, operating, and maintaining, or decommissioning assets, IFS helps you maximize value from cradle-to-grave on a global scale.
DESIGN, OPERATE, MAINTAIN, SUCCEED
IFS Applications can be efficiently deployed as a best-of-breed EAM solution. But it's also a full-suite ERP solution that covers HR, CRM, financials and all your back-office requirements. And it integrates seamlessly with your legacy software to take your asset management to a whole new level.
Now, imagine being able to reduce the lifecycle cost of managing assets and asset information in a totally integrated and open asset lifecycle management solution. This is what IFS Applications is all about. From design to engineering, procurement and maintenance management, IFS Applications has such a wide scope of functionality that it can support every single process of the asset lifecycle.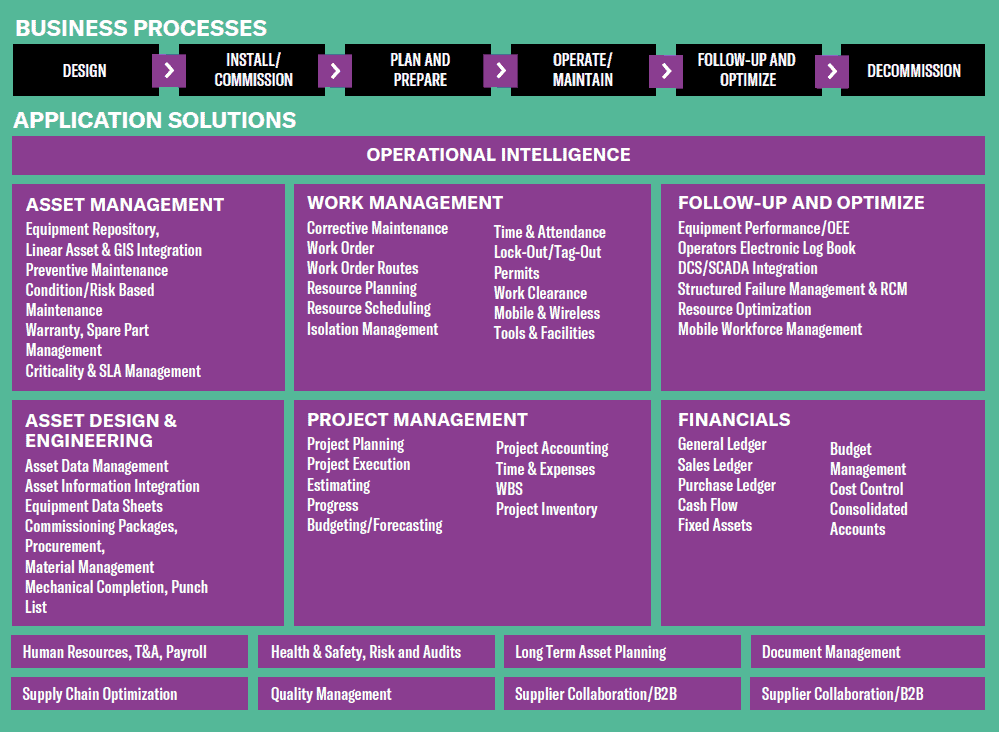 Manage every aspect of your asset lifecycle
IFS Enterprise Asset Management