CHOOSE ONLY WHAT YOU NEED
With the component-based architecture of IFS Applications, you choose what you need and can change or add features and capabilities as your business evolves.
In total more than 6,000 individual software objects make up IFS Applications, each one with its own well-defined purpose. They fit together to make up the 100+ business components. You can decide which of these business components you need. Adding other components doesn't impact the existing set-up, so you can build up your solution over time.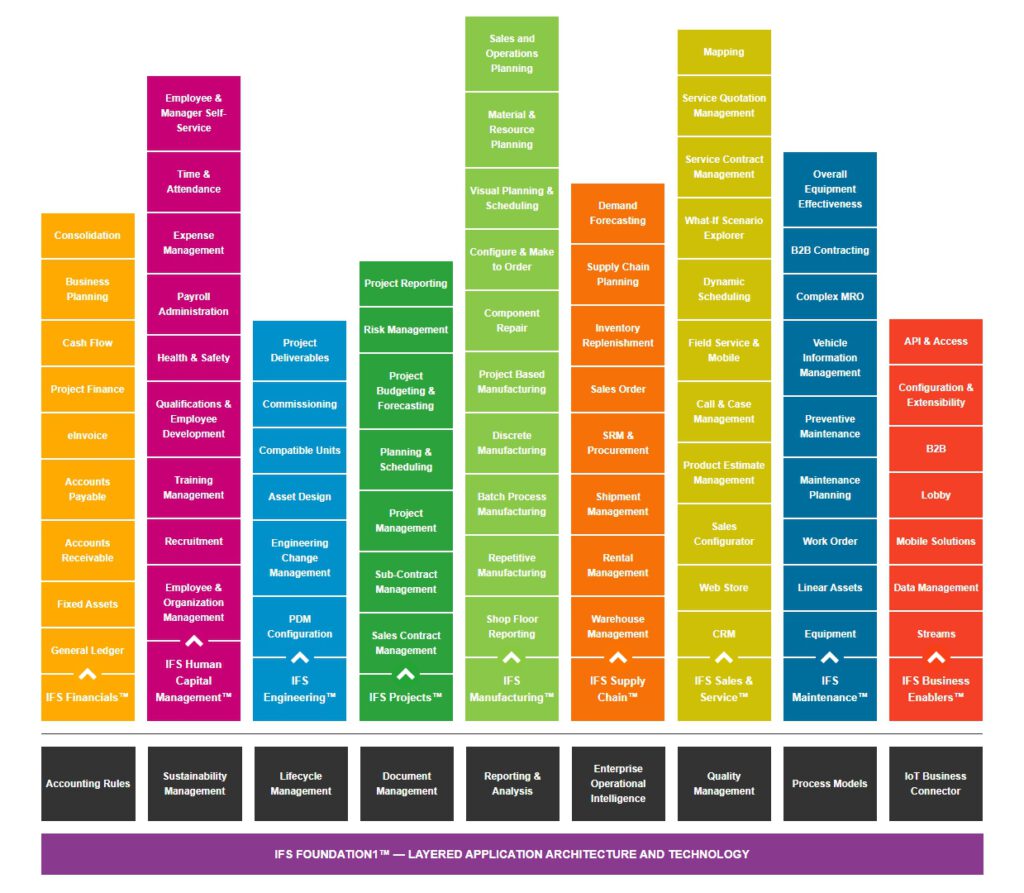 CONNECT TO THE FUTURE WITH IFS APPLICATIONS
No business operates in isolation. We are all affected by what's coming next.  IFS Applications combines leading technology with an understanding of your industry to help address trends including Internet of Things (IoT) digital transformation, servitization, and individualization. It offers last-mile functionality to optimize your operations here and now, and an outstanding digital experience to engage everyone inside and outside your organization.
Connect to the future with software that offers :
Deep industry functionality within a broad suite that also includes financials, human capital management and customer relationship management.
A more engaging and enjoyable work experience through IFS Aurena, its intuitive user interface accessible from any device.
Choice of Software-as-a-Service (SaaS) managed cloud or running on-premise.
Support for global operations and greater transparency in business processes, bringing all parts of the company closer together.
IoT technology and real-time data capture for predictive maintenance and service.
Low cost of ownership, proactive quality management and continuous innovation through a regular update cadence plus a layered application architecture (LAA).
IFS SOLUTIONS SUITE
IFS Applications offers full support for enterprise resource planning (ERP), enterprise asset management (EAM) and enterprise service management (ESM). It includes all of the functionality you expect from a tier one ERP software suite, plus powerful embedded functionality that extends the application into other crucial areas of your business. It allows you to reduce the lifecycle cost of managing your critical assets and the information that surrounds them. And it helps you optimize the way you use your resources in the office or out in the field to obtain leaner operations.
Truly embedded customer relationship management (CRM), along with software for critical business processes such as financials, HR and business intelligence, brings the customer perspective into the heart of everyday business operations. Combined with our deep industry knowledge, IFS Applications is a complete solution for all of your business needs.
ENTERPRISE RESOURCE PLANNING (ERP)
ENTERPRISE ASSET MANAGEMENT (EAM)
ENTERPRISE SERVICE MANAGEMENT (ESM)
FIELD SERVICE MANAGEMENT (FSM)
For More Information