IFS Cloud is built on a single technology platform that brings innovation and delightful experiences to life in your business.
Our platform combines an intuitive user experience that lets you connect and extend using 100% open APIs, with the benefits of machine learning and optimization, reporting, analytics, and process automation throughout IFS Cloud. It's supported by an application lifecycle experience with a range of tools that help you get the most business value from each specific stage of your implementation. And all this comes with the security and reliability you need to trust IFS Cloud to run your business.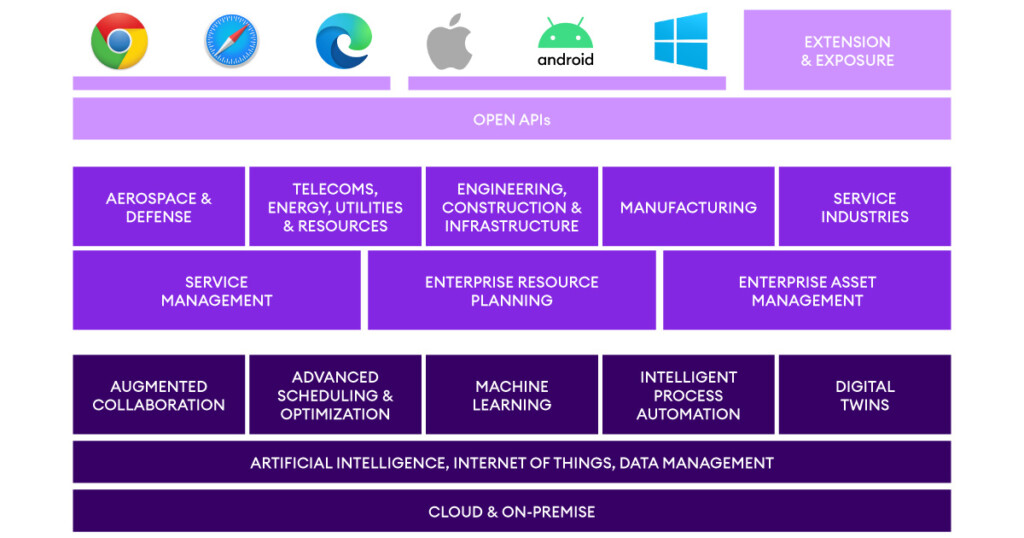 Delightful user experiences help your people get more done. Work from any location and device with our browser-based UI, offline-capable apps, office add-ins, chat bots and augmented reality capabilities.
Make the solution yours. Configure it with visual designers for user experience and process automation. Use APIs to extend on the outside, or extend in layers with developer tooling.
Automate and optimize performance of your business with built-in Machine Learning (ML) and evolutionary computing AI capabilities, leveraged across pre-built and bespoke industry use cases.
Awareness and decision-making support for individual tasks, departments, processes, and enterprise strategy.
Connect innovations, technology, automation, user channels, and other systems with 100% open APIs, events, and smart partnerships.
Run IFS Cloud with confidence in our cloud service, or in a location of your choosing, thanks to a containerized architecture and a choice of deployment models.
Our unified solution helps improve cost control, reduce lead times, and boost quality, efficiency and accuracy across all your manufacturing modes and processes, from new parts estimates to delivery.
Operate more efficiently with a scalable, embedded solution that provides complete supply chain visibility and intelligent solutions for demand planning, sales, warehousing and procurement.
Equip your business to tackle even the most complex challenges with world class workforce optimization solutions along with unrivalled breadth in service management capabilities.
Fast access to value and full control over your solution, tailoring, and evergreen update cadence.